IT Job Descriptions - Salary Survey - IT Hiring Kits
IT Job Descriptions - Salary Survey - IT Hiring Kits are a key component of every HR and IT departments management infrastructure.
Hiring in IT Job Market Robust - but Slowing
With the start of re-opening the US economey, layoffs of IT Professionals has stopped and they are being recalled. 213,100 IT jobs added in 2021.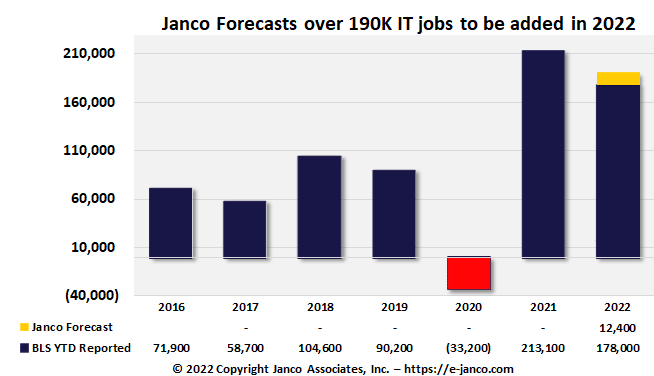 Hiring Plans
Hiring of new employees is slowing. It will take several quarters to for hiring to be robust again. For more go to IT Job Market News.
Current IT Job Market Growth
138.6K IT jobs added YTD. Detail analysis of the IT Job Market is available.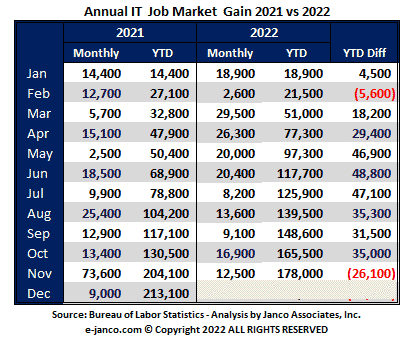 ---
News -- Data Scientist Job Description Released - With the increased demand for "Big-Data" the Data Scientist is one of the hottest new IT jobs.
Order Data Scientist Job Description
News --2022 IT Salary Survey Released - IT compensation flat. Median IT Salary in companies surveyed now $96,667.
---
Current Median IT Salaries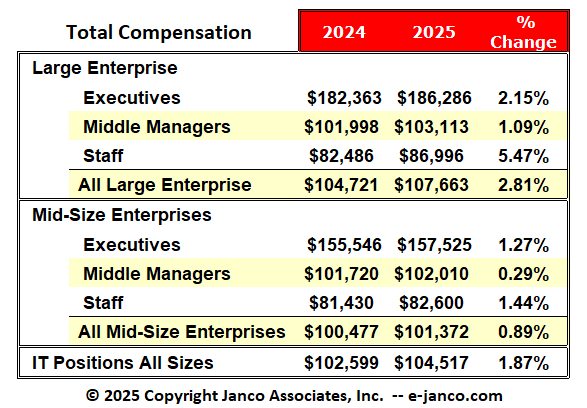 For the latest data go to the current IT Salary Survey
---
NEWS -- IT Job Family Classification HandiGuide 2022 Edition Released- After years of hands on experience in creating IT Job Family Classifications, Janco has now released its proprietary IT Job Family Classification System in the form of a HandiGuide. Read on.
Read On Order IT Salary Survey Download IT Salary Survey Summary
Electronic HR department
Current IT Job Descriptions and Salary information all comply with Sarbanes-Oxley and section 404 help in your staffing process. IT workforce productivity is our focus and the human resource function is key driver. Employment policies, compensation, and position descriptions Chief Information Officer (CIO), Chief Technology Officer (CTO), Chief Security Officer (CSO), Chief Compliance Officer (CCO), Webmaster, and hundreds more) that are easy to implement - even if you outsource.
Purchase job descriptions, for information technology and government  jobs. Current salary survey data for key technology positions. Cut and paste into employment ads, company manuals and organizational charts. Use them to attract and keep the best talent. Fully compliant with Federal guidelines including ADA and EEOC. Job descriptions that promote responsibility, improve morale and corporate image.
Pandemic Impacts Unemployment Rate