IT Hiring Kit Job Descriptions Salary Survey
"Everything you need to respond and hire as demand for IT Professionals increases" - CIO Fortune 500"
Simplify Recruiting While Making Sure You Hire The Best IT Staff Possible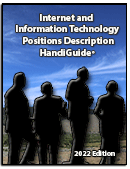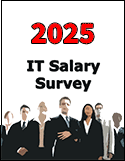 IT Hiring Kit Job Descriptions Salary Survey - Building the IT Staff is key to your company's success. To succeed requires offering the right jobs at the right salary levels to the right individuals. Only the IT Hiring Resource Kit provides the industry-standard job descriptions and up-to-date salary data you need to recruit top talent as effectively and efficiently as possible. Hiring the right people is critical.
Order IT Hiring Kit Download Select Pages
IT Hiring On an Upwared Trojectory
Historic IT Job Market Size

Updated with current data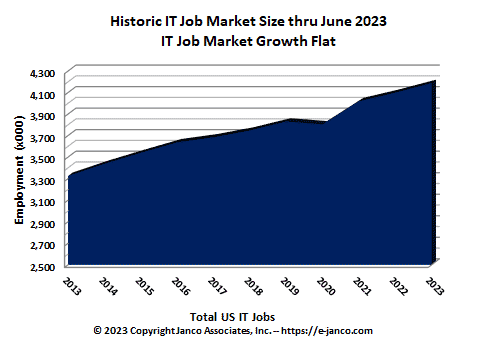 For current data go IT Job Market Size to see the historic job market growth trend detail data
Best Practices to follow when you to hire and keep the best people
Use downturns in the economy to raise overall quality of workforce, toughen your hiring practices, and fire under performers
Give recognition and rewards to top performers
Ask employees what their dream company's retention program would look like and then build
When hiring, key on personality traits and attitudes
Ask potential hires how they have handled difficult situations in the past
Ask employees and new hires who's the best person they ever worked with - and then go after those people.
While you're going after your competitors' stars, always assume they're doing the same.
Once you make hires, do all the follow-up and training necessary to ensure they're in the right jobs. If employees don't work out, cut your losses quickly.
The first step every enterprise needs to take is to see they have the right tools in place. eJobDescription and Janco have assembled the IT Hiring Kit,the indispensable resource that provides CIO, IT Managers, and HR professionals with everything they need to hire and retain the best talent. It includes up-to-date salary data gathered through an extensive survey of businesses throughout the United States and Canada, plus polished job descriptions for the 73 IT positions surveyed. This proprietary information will reduce the time it takes to recruit top talent and ensure that you get the right person for each job.
Contents

Standard
Edition
Silver
Edition
Gold
Edition
Platinum
Edition
IT Salary Survey -

The salary survey draws on data collected throughout the year via extensive Internet-based survey instruments and completed survey forms from businesses throughout the United States and Canada. The survey data reflects IT salaries in 78 major cities in the United States as well as 23 cities in Canada. Summary data is provided in both the PDF document and a separate Excel Spreadsheet.

x
x
x
x

Interview and Hiring Guide (WORD and PDF)- Provides a process, forms, questions to ask and not, while meeting mandated requirements.

Anyone conducting an interview should be aware of questions that are illegal to ask prospective employees. Many illegal questions are easy for just about anyone with elementary social graces to avoid, but others might surprise you. In general, you should not ask an interviewee about their age, race, national origin, marital or parental status, or disabilities. 

x
x
x
x
Salary Survey Job Descriptions (PDF)

The job descriptions are provided as an indexed PDF document for all of the positions surveyed. The PDF file can be viewed and printed.

x
x
x
x
Salary Survey Job Descriptions (Word)

The IT job descriptions are provided as individual word files using long file names.

(WORD .docx format)
x
x
x
Internet and IT Job Descriptions (Word)

The 324 job Descriptions Descriptions have been extracted from Janco's Internet IT and Position Descriptions HandiGuide

® (WORD .docx format).
x
x
Internet and IT Positions Description HandiGuide® (PDF) The Internet and IT Position Descriptions HandiGuide® contains over 800 pages; which includes sample organization charts, a job progression matrix, and 324 job descriptions. The book also addresses Fair Labor Standards and the ADA. Also included are tools to help you expand, evaluate and define your enterprise's unique additional required. Those tools include:

Job Evaluation Questionnaire
Position Description Questionnaire
Job Progression Matrix (Job Family Classifications)
Best Practices - Resume Screening
Best Practices - Phone Screening

x