IT Infrastructure and IT Policies
Polices and procedures are the nemesis of IT executives around the world
When a CIO or an IT Executive takes over a new job one of the greatest challenges is to quickly validate that the infrastructure that is in place. Would it not be nice to have some tools that could be use to quickly put proven world class policies in place with minimal effort. That is what the CIO IT Infrastructure Policy Bundle does.

Gain control over your IT realm! Download a collection of over Janco's IT infrastructure and policy templates. Each can be modified to align with your needs. This comprehensive collection comes with a variety of highly-researched tools that will help you develop a complete guide that fits the unique needs of your organization and provides tools and suggestions for policy communication and enforcement.
Defining Your Optimal IT Infrastructure is a critical task that can no longer wait with all of the changes mandated by PCI-DSS, HIPAA, ISO, ITIL, Sarbanes-Oxley, changing economic environment, and changes to enterprise operating environments. 
Order Infrastructure Policies and Procedures Download Table Of Contents
IT Policy Bundle
eJobDescription.com, working in concert with Janco Associates, has combine the policies that Janco has developed over time with some of the best IT organizations around the globe into a single package. With this bundle you get a PDF file that has all of the procedures in a single document that is over 300 pages long. It would take your staff months to develop these procedures from scratch. In addition you get a separate MS-Word document for each procedure which can easily be modified.
This bundle contains the following policies:
CIO IT Infrastructure Policy Bundle
Backup and Backup Retention Policy
Blog and Personal Web Site Policy
Incident Communication Policy
Internet, e-Mail, Social Networking, Mobile Device, Electronic Communications, and Record Retention Policy
Mobile Device Access and Use Policy
Outsourcing Policy
Record Management, Retention, and Destruction Policy
Sensitive Information Policy (HIPAA Compliant)
Service Level Agreement (SLA) Policy Template with Metrics
Social Networking Policy
Telecommuting Policy
Travel and Off-Site Meeting Policy
IT Infrastructure Policy Bundle - Read on...
Order Infrastructure Policies and Procedures Download Table Of Contents
The policies help enterprises:
Understand and explain what infrastructure is, enabling enterprises, their constituents, and the executive team to manage the enterprise's technology environment more effectively;
Analyze the current state their enterprise's infrastructure so they know where it works well and where to focus improvement efforts;
Justify infrastructure spending, using the template's comprehensive definitions and ready to use examples to link IT infrastructure and the enterprise's bottom line; and,
Prioritize enterprise resources with a prescriptive toolset that lets enterprises focus their efforts in a cost effective manner.
In addition to this bundle there also is a CIO Infrastructure Management Tool kit that combines many of the most popular tools with discounts up to 30% or more. The options are:
CIO Infrastructure Management Tool Kit Versions
The CIO Infrastructure Management Tool Kit comes in four versions - Standard, Silver, Gold, and Platinum.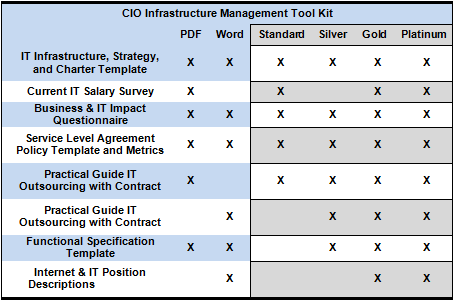 Order Infrastructure Policies and Procedures Download Table Of Contents