IT Graduates Find Difficult Job Market
The challenges facing the class of 2011 could be just as difficult as last year, but new careers can be forged by taking the right steps.
Dramatic change has long been a mantra in the IT industry, but it's unlikely that anyone foresaw the changes that last year's graduates would face as they entered their senior year. The financial meltdown in the fall of 2008 pushed the U.S. economy into its deepest recession since the Great Depression. The stock market fell by 50 percent, and housing prices dropped by 20 percent. The net worth of American households declined from $63.7 trillion in January 2008 to $51.5 trillion in January 2009, a decrease of $11.2 trillion, or 18 percent.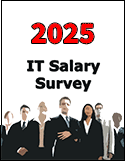 A ripple effect occurred: Companies tightened their purse strings, new projects were put on hold, employees were let go and turbulence ensued. "There's no doubt that 2009 was a difficult, difficult year for the IT industry," says the CEO at Challenger, Gray & Christmas, an outplacement consulting firm. "Many IT graduates simply could not find work."
As the 2010 graduates polished their resumes, they encountered a job market in flux. The financial maelstrom had ebbed, and the quick, dramatic cuts companies made to IT budgets in 2009 had subsided. However, residue from the downturn was still evident. Salaries remained at best flat in 2010, and job creation remains a volatile issue. A corporate communications manager at CareerBuilder, says that companies seem positive about the future. Still, they were and are a bit skittish about adding new employees, which makes it especially difficult for recent graduates to find work. Though better than 2009, 2010 was not as welcoming a job market as IT graduates have found in the past. While there's some optimism for 2011, unemployment remains high and tension persists regarding the outlook for jobs. The IT class of 2011 will likely face many of the challenges that the class of 2010 encountered.
Declining Fortunes
So how bad has the economic downturn been for the IT industry? A market research firm found that 2009 was the worst year ever -- even worse than the dotcom bust. In 2009 IT spending declined 5.2 percent worldwide. According to the U.S. Department of Labor, IT employment peaked in the fall of 2008, when more than 4 million individuals held jobs in IT departments.
After the financial meltdown, those numbers dropped by more than 10 percent as companies quickly let employees go and banished new projects to the backburner. "In June 2009, our job listings dropped by 45 percent," notes Tom Silver, senior vice president, North America, for Dice.com, a Web site serving technology and engineering professionals and companies searching for such individuals. The end result was that fewer openings were available to students searching for entry-level work in the spring and summer of 2009. In 2009, 43 percent of employers planned to hire recent college graduates, down from 56 percent in 2008 and 79 percent in 2007, according to CareerBuilder's Annual College Job Forecast.
For the industry overall, research firm Janco Associates Inc. found that the IT employment picture in 2010 wasn't much better. In October, Janco found in data from the Bureau of Labor Statistics a 0.66 percent drop in IT employment compared to the year before. In a statement, the company offered ominous news: "In subsequent follow-up interviews with CIOs and CEOs at a number of large firms, the consensus is that the recession is not over and that budgets for 2011, which had assumed a marked improvement in the economic climate, will need to be revisited and possibly reduced."
Those who were fortunate enough to be hired in the last couple of years found a dour workplace. Dice.com reported a 1 percent average pay increase for IT professionals (the average salary being $78,845) in 2009. Janco's 2010 data was somewhat more encouraging, but not much: "Overall compensation for all IT professionals has shown a slight increase from $77,690 to $78,210; however, the study shows that there was a 13 percent decrease in the number of employees receiving personal performance bonuses and a 7 percent decrease in those receiving enterprise-based performance bonuses," the firm said in a statement. Grumbling became quite common in many company datacenters: Dice.com found that close to half (47 percent) of all IT employees said their employers were doing nothing to keep them motivated.
---
Current Median IT Salaries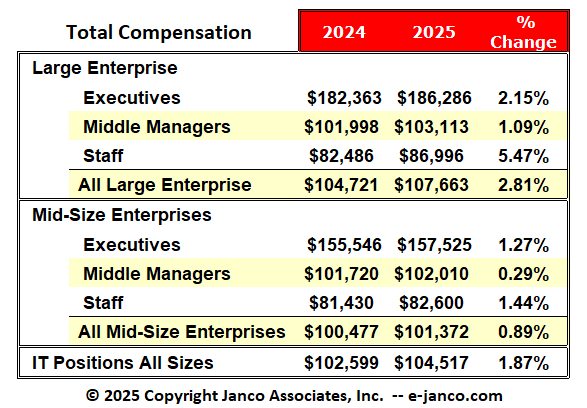 For the latest data go to the current IT Salary Survey
---