Reorganizations are sending salaries up--for some
IT department reorganizations are cited as the main catalyst for spiking IT compensation this year, according to the IT Salary Survey from Janco Associates, an international consulting organization in Park City, UT.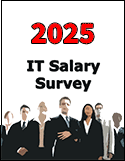 The mean IT salary for all positions at large companies has
increased, largely because many businesses have retained more senior, experienced workers during staff reductions, according to Janco.

Yet, as TechRepublic members have noted in discussions on previous salary survey articles, reported findings don't always mesh with real-life trends. TechRepublic wants to know whether you agree with Janco's survey results as outlined in this article and whether your IT department has seen a boost in salaries this year. Tell us if the Janco salary survey is in line with what's happening in your organization these days. To get a free summary of Janco's survey, click here.
Median Salaries January 2010 versus January 2011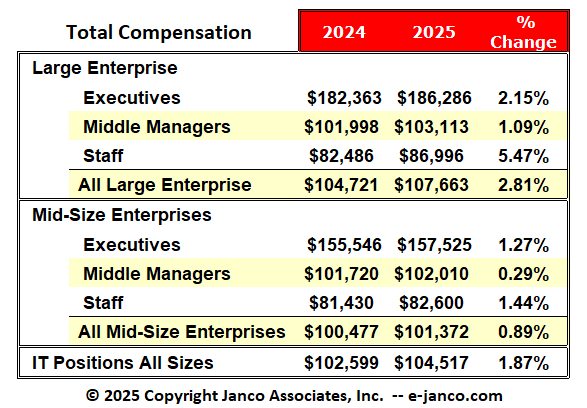 The most striking observations of our latest survey are:
Some recovery has occurred in compensation and hiring of IT Professionals. The total mean compensation for all IT Professionals has increased modestly by 0.35% to $77,873 from $77,604. This puts overall compensation back at the levels they were at in January 2008.
Middle manager and non-line IT executives continue to feel a salary crunch.
Mid-sized enterprises are now starting to hire staff workers with salaries in this sector increasing the most - Mean compensation is up by 1.44% from $61,047 to $61,924.
Layoffs seem to have tapered off
On shore outsourcing has peaked and companies are looking to bring IT operations back into their direct control and reduce operating costs.
Cost reduction is still the rule of the day; however we have seen an increase in the number of "part-timers" and contractors who are focused on particular critical projects.
Companies are continuing to reduce the benefits provided to IT professionals. Though benefits such as health care are available, IT professionals are now paying a greater portion of that cost.
Flexible hours and work schedules are becoming more available as the recovery begins to take hold and is viewed as a low cost high value benefit by both employers and employees.
CIOs compensation has increased over the last 12 months. The mean compensation for CIOs in large enterprises is now $184,681 (an increase of 1.73%) and $163,106 (an increase of 0.49%) in mid-sized enterprises.
CIO demand is almost non-existent as companies who were not pleased with their existing CIO have already replace them and incumbents in those positions are reluctant to move with the current economic conditions.
Mean compensation across all IT professionals has increased by 0.35% (from $77,604 to $77, 873).

In mid-sized enterprises, the mean total compensation for all positions has increased by 0.43% from $73,934 to $74,253. This is due to an average increase of 1.44% in the non-management staff levels of those enterprises.
In large enterprises, the median compensation has risen slightly from $82,273 to $81,493.