Microsoft's Future Depends On IE9
Janco Brower and OS Study shows Microsoft's weakness
Microsoft's Future Depends On IE9 - Web browser as well as operating system share for Microsoft Windows 7 is reported by Janco Associates. The main point is to find out how this Web browser share withstands to the competitive browsers.
In August 2010 Janco IE's market share is officially reported to be 66.07 percent, which is 4.54 points down compred to August 2009 with 70.61 share percent. The Netmarketshare put IE's share at 60.74 percent in July. Such a rise may suggest only some temporal release.
Janco believes that Microsoft's browser market is on its way to decay. IE was on its pick in early 2005 with 90.61 percent share.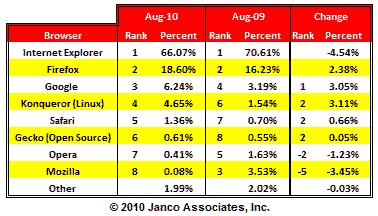 As for Mozilla Firefox, free and open source, it took a very small market share of 4.44 percent in 2005. While today Firefox is at 18.6 percent share. There were some rises and falls for the last year: in August 2009 Firefox was about 16.23 percent and in January 2010 it took 21.23 percentage points. It is noted by Janco that Firefox novelty and uniqueness "have worn off and have been duplicated by IE … and Google Chrome." In July the Mozilla Foundation launched a beta of Firefox 4.0.
Google Chrome was launched two years later than 2005 and this month has 6.24 percent. This year it doubled its market share in comparison with 3.19 percent last year. According to Janco, one important disadvantage of Chrome is that it doesn't work on all sites. On August, 12, 2010 Google issued a beta of Chrome 6.
All that stuff together leads us to IE 9. Its beta version will be presented by Microsoft at an event September 15 in San Francisco. IE 8 is praised by Janco for being ahead of the other browsers. IE 9 haven't received any judgment yet, while only its preview mode is available now.
It is evidently that the browser market has considerably changed since the time when IE had 90 percent. Today, Firefox and Chrome are considered to be intense rivals.
It is previously reported that IE 9 is potentially faster browser than IE 8.
Order Browser & OS White Paper Download