Janco IT Salary Survey Reflects Optimism in IT Sector
Job Descriptions and IT HR Tools are a winner
IT professionals have reason to smile, at least according to Janco Associates, which paints a very rosy picture about salaries in the IT job market.
The Janco Associates, Inc. salary survey draws on data collected throughout the year. This is done by conducting extensive interviews, gathering data based on Internet-based surveys and survey forms completed by businesses throughout the United States and Canada.

According to the Mid-Year 2010 IT Salary Survey hiring in some sectors of the IT job market seems to be picking up from where it left off before the recession. Salary cuts seem to be a thing of the past and there is actually an increase in compensation for selected positions, especially for CIO's.

'Even though many fear a second dip in the economy, CIOs in larger enterprises have been give the 'yellow light' to look ahead and fill positions that were left unfilled last year,' said Victor Janulaitis, CEO, Janco, in a release.

However, Janulaitis was quick to add that this was not true of all companies. Mid-sized companies were more cautious in their approach, as they feared that the recovery would not be strong enough to justify increased IT spending.

When Janco conducted follow-up interviews of the participants, it found that CIO's were optimistic about the future and had actually commenced their 2011 planning processes on the strong assumption that the economy would pick up rapidly and strike a positive note in the beginning of 2011.

On the basis of this Janulaitis concluded that in the light of such revelations, hiring and compensation should strike a positive note.

A 12-month comparison by Janco indicated that mean compensation, which included bonuses, for all IT executive positions in large enterprises surveyed stood at $143,378, which was a marginal increase from the previous $142,753. Contrastingly, in the case of mid-sized enterprises, there seemed to be a slight decrease in the mean compensation, $125,079 from the previous $126,031.

However,overall compensation for all IT Professionals has shown a slight increase from $77,690 to $78,210; but there was a 13 percent decrease in the number of employees receiving personal bonuses and a seven percent decrease in those receiving enterprise-based performance bonuses.

'Bonuses are trailing indicators and should return as soon as the recovery takes hold,.' Janulaitis said.

This IT Salary Survey is based on Janco's IT professionals' compensation database, and compensation benchmark hiring and salary ranges are established for each position surveyed. The IT Salary Survey is published semi-annually.

While analyzing the study data, the upper and lower quartiles are eliminated. This is done in order to get fairly accurate benchmark ranges, which are used to assess the alignment of a company's actual compensation to the marketplace for each job function.

Janco Associates, Inc. , founded in 1998, is a management consulting firm that focuses on Management Information Systems, and in particular on the strategic application of information technology to gain competitive business advantage.

Living up to its reputation as a consulting firm that gives guidelines and recommendations, Janco Associates, Inc announced the release of an Interview and Hiring Guide hat would provide CIO and IT recruiters the tools necessary to ensure the best qualified candidates are asked all of the right questions and the risk of adverse legal actions by rejected candidates is minimized.
---
Current Median IT Salaries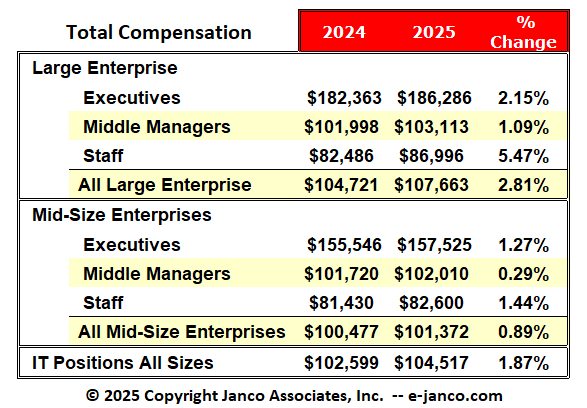 For the latest data go to the current IT Salary Survey
---