IT job Market Trends Driving Job Growth - Salaries
Job Descriptions and IT HR Tools are a winner
Will job prospects for U.S. IT professionals fare better or worse for the rest of the year? It's hard to tell from the latest economic and employment data being released by IT career experts.
---
Reports issued in the first week of June provide conflicting information about IT hiring, compensation and outsourcing trends. On the plus side, these reports say IT hiring will increase during the second half of 2010, and CIOs are more optimistic about their budgets and staffing levels than they were a year ago. However, IT salaries and benefits are still being squeezed from all sides, and it's difficult to tell which IT skills are most in demand on a month-to-month basis.
IT Median Salaries Current Data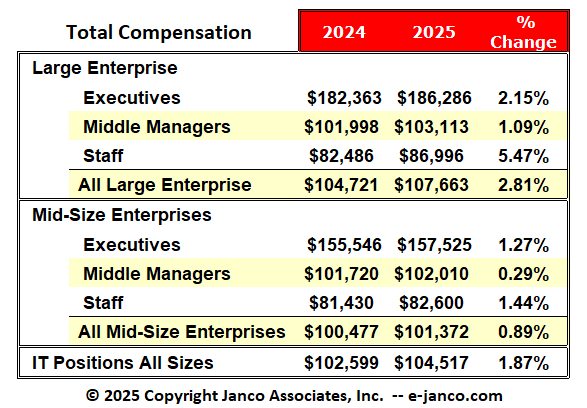 We have replaced the prior chart with the one from the latest IT Salary Survey.This was done in order to provide the best information possible. Prior to doing that the various search engines would not place our data in high ranking search engine positions.
Here are some of the more interesting trends that we've culled from the latest IT salary and hiring surveys:
Expect more churn in IT staff as CIOs accelerate their move to more flexibile staffing models. CIOs are outsourcing more technical work, including managed IP services such as VoIP and VPNs. They're hiring more contractors for desktop and security services, and they're putting more applications such as remote backup in the cloud. At the same time, they're looking to hire IT people with business and analytical skills, such as risk management and project management. Indeed, CIOs report that they're having trouble hiring IT people because either they can't find IT professionals with the right business skills or they can't afford them. All of this means more turnover in IT departments.


IT hiring will grow in the second half of the year. A Web site, which lists tech job openings, conducted a survey of IT hiring managers and recruiters, and nearly half of them said they plan to add 10% more employees in the next six months than they did in the first half of the year. Another 28% of respondents plan to increase hiring by 11% to 20%. Survey respondents are getting more optimistic about salaries, too. A quarter of survey respondents predicted that IT salaries will rise in 2010, compared to 10% of survey respondents making this prediction six months ago. Another good sign: 69% of survey respondents said layoffs are not likely at their companies during the next six months.


Banks are starting to hire IT staff, but they are in no hurry to fill open jobs. Banks are looking for IT professionals who can manage new technology or integration projects, but that they are taking from six to eight months to fill open jobs. This compares to three or four months to fill jobs prior to the recession. Banks are being "really selective" and are looking for "exact matches" for their detailed job descriptions.


IT pros are getting paid slightly more than last year, says Janco Associates' mid-year IT salary survey. Total mean compensation for IT pros has increased to $78,210 from $77,690 a year ago – a rise of less than 1%. However, most of the additional money is going to CIOs, and not their staffs. Compensation of CIOs in large enterprises rose 7.5% to $181,533, and in midsized enterprises it rose 3.7% to $169,303, Janco found. Lower-level IT pros, on the other hand, are experiencing reduced bonuses, frozen salaries and in some cases they are being asked to pay a greater portion of their healthcare costs, Janco said. One positive sign: companies are more willing to consider flexible hours and work schedules as a low-cost benefit for IT workers.


CIO confidence is up. The survey found that 10% of CIOs plan to expand their IT departments in the third quarter, while 4% plan to reduce staffing. The states with the most active IT hiring are expected to include New Jersey, New York, Pennsylvania and Texas. Overall, 81% of CIOs said they are confident in their companies' growth prospects in the third quarter, while 40% said their firms are likely to invest in new IT projects in the next three months.


Job hopping is on the rise, prompting CIOs to worry more about IT staff retention. A recent report found that more Americans quit their jobs in the last three months than were fired. The rise in voluntary departures is prompting CIOs to worry about retaining their best IT staff. The Robert Half Technology survey found that 34% of technology executives are concerned about losing top IT performers in the next year, up three percentage points from last month. Similarly, 43% of CIOs say it is "challenging" to find skilled IT professionals today.


CIOs say networking and security top their list of hot IT skills. CIOs surveyed said they had the hardest time filling jobs in networking, applications development and security. Other hot skills include software development, database management and help desk/technical support. Similarly, a recent survey of 400 U.K. recruitment consultants found that IT security skills were most in demand for permanent hires. The Report on Jobs, by KPMG and the Recruitment and Employment Confederation, also found that full-time staff with enterprise software and developer skills were in short supply.


Government, usually the safest sector of the economy in a downturn, has announced more job cuts this year than any other employer. Government agencies and nonprofits announced more job cuts than any other industry segment in May. The sector shed 16,697 jobs in May, 12% more than the job cuts announced in April. All total, the sector has shed 93,470 jobs in 2010. What's driving the cuts are state and municipality budget problems, which are likely to continue due to lower tax revenues and stagnant housing values.
Order IT Job Descriptions Download TOC Sample Job Descriptions