IT Salaries Flatten, Benefits Decline
---
IT Salaries Flat, Benefits Down - The "ivory tower" of job security for IT professionals is deteriorating due to a dour economic climate and changing strategies by CIOs.
That's one of the conclusions of a report published this month by mountain states consulting firm Janco. In its "2010 IT Salary Survey," Janco points to a number of causes for the flatting of IT salaries and decline in benefits since 2007. The last few years have brought cost-cutting mindsets, business closures and extensive outsourcing.
---
Current Median IT Salaries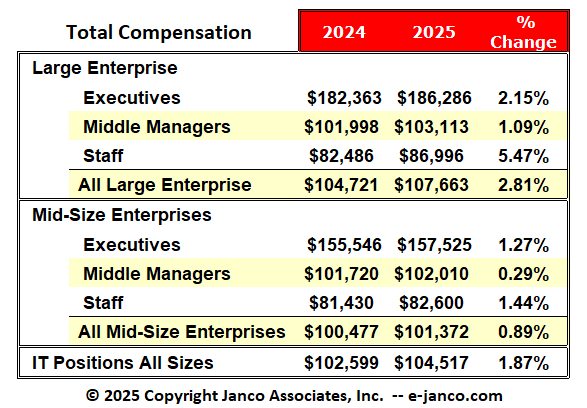 For the latest data go to the current IT Salary Survey
---
"The days of CEOs throwing money at the ivory towers of IT are gone," said Victor Janulaitis, Janco's CEO, in a telephone interview. "In addition to the economic constraints and budget cuts, there are more executives out there who understand IT limitations and know that just investing in new technologies does not necessarily sell more hamburgers."
According to the data, many organizations are initiating hiring and spending freezes, along with layoffs of IT personnel, in mid-management and IT support roles. In addition, the study found that organizations were increased outsourcing, reducing employee bonuses and travel expenses, and lowering IT contractor support.
"If there is any good news in this survey, it's that salaries have flattened out instead of continuing downward," Janulaitis said.
IT salaries peaked in 2007, according to the report, and then started to decline in the fall of 2008. In 2009, salaries for IT personnel (executives, middle managers and staff) rose by 0.38 percent. Midsize enterprise salaries rose by 0.11 percent.
"It is surprising to me to see how many CIOs held back from laying people off during the past two years," Janulaitis said. "They looked for all kinds of ways to cut back on expenses, but did not cut down to the bone. Now in 2010, the only way they can cut back is to lay people off."
Janulaitis said he expects new projects will also be delayed or scrapped while companies look at retrofitting existing projects to save on expenditures.
"This is the largest and deepest decline in the IT job market I've seen since I started with IBM in 1967," Janulaitis said. "However, if or when the economy turns around, I think you will see a velocity of change in IT that we haven't seen since the seventies."
He noted that today's "baby-boomers" who were planning to retire in the next few years are keeping their jobs in the current economy. When the rebound does occur, he sees IT doing well, especially in the government sector.
"If the healthcare bill passes, it will be somewhat of a windfall for IT," mused Janulaitis. "It will be a whole new bureaucracy, and bureaucracies require digital infrastructure and data management."
The "2010 IT Salary Survey" can be downloaded at Janco's site here. The 159-page report contains data gathered from nearly 50,000 participants, representing large ($500 million plus in revenues) and medium-size organizations. More than 800 organizations in the United States participated.
You have several options to obtain this study.  You can get a summary for free if you participate by providing more than ten (10) data points or you have several option on how to purchase the data.
Order IT Salary Survey Download IT Salary Survey Summary
Summary Results and Changes in Demand for IT Jobs