IT Job Growth Slows for Third Straight Month
Survey of 98 CIOs reveals a renewed caution when it comes to headcount levels and hiring for critical new developments

IT Job Growth Slows for Third Straight Month - As national unemployment improved to 7.5 percent last month, growth of IT jobs has fallen from a peak of 11,700 jobs added in January to only 4,600 added in April, according to this month's IT jobs report from Janco Associates.
"The impact of sequester is part of the cause, the others are that no manufacturing jobs were added in April and the uncertainty of new taxes," said Victor Janulaitis, CEO of Janco Associates. "In addition, more people continue to remain out of the job market with the lowest participation rate since 1979 — even as the published unemployment rate goes down. If you look at the stock market you would think that everything is great. However, there is concern that the pace of the recovery is too slow to generate sufficient demand for new technology and systems, which would result in more IT pros being hired."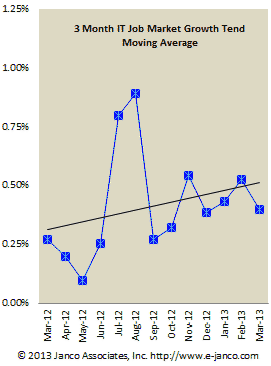 Again, Janulaitis points to workforce participation as a key indicator in the economic recovery, indicating that growth could slow at any time as long as participation is so low.
In a continuing survey of CIOs, Janco has found that many have become more cautious in the last month. Janulaitis said, "In telephone interviews in late April of 98 U.S.-based CIOs we found that many companies are uncertain of which way the economy is going with sequester, tax increases and an unstable world political situation. CIOs continue to closely manage their overall FTE (full-time equivalent) headcount levels as well as their adding of staff for critical new developments. The number of CIOs who are bullish is low."