Good News for IT Professionals – Salaries are up
IT Pros see an improvement in pay according to latest IT Salary Survey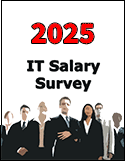 Park City, UT – Good News for IT Professionals – Salaries are up - The 2013 Salary Survey, just released by Janco Associates and eJobDescription.com, is good news for IT Professionals. The survey shows that hiring and salaries have improved for IT positions in most North American metropolitan areas.
The CEO of Janco, Victor Janulaitis stated, "Salaries are up 1.98% for IT pros in the past 12 months and the big winners are CIO – especially those in larger enterprises." Mr. Janulaitis also said, "Our study also found that the average tenure for CIOs has moved up to 4 years 3 months from 4 years 2 months last at this time." He added, "IT salaries have finally gotten back to the level they were at in 2007 and that is a very good sign."
The seven major findings of the survey are:
Order IT Salary Survey Download IT Salary Survey Summary
IT compensation has increased by 1.98% in the last 12 months
Over the long term IT executives have fared better in mid-sized companies than large companies
Median CIO tenure has increased from 4 years and 2 months to 4 years and 3 months
Companies are continuing to refine the benefits provided to IT professionals
Positions in highest demand are all associated with the quality control, records management, and data center operations management
Cost control is still the rule of the day
Outsourcing has peaked and companies are looking to bring IT operations back into their direct control
The survey includes data from 249 large and 785 mid-sized organizations with anywhere from a single data point to over 625 for particular organization. The data was captured in the last quarter of 2012.
Janco has compiled IT compensation data since 1996 and publishes its IT Salary Survey semi-annually. The IT Salary Survey is based on Janco's IT professionals' compensation database. A summary of the most recent salary survey can be obtained by visiting Janco IT Salary Survey at https://e-janco.com/Salary.htm.
ERP Salaries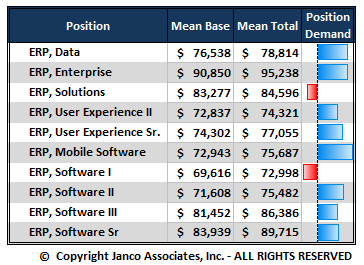 ---
Current Median IT Salaries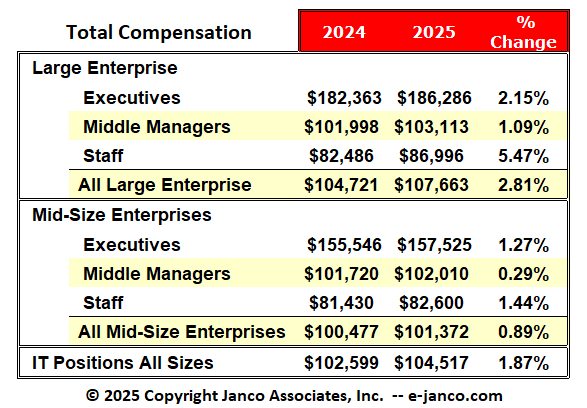 For the latest data go to the current IT Salary Survey
---