Janco finds IT job seekers face hot yet finicky market
A turbulent mix of trends confront IT job hunters and recent college graduates
Janco finds IT job seekers face hot yet finicky market - The IT job market is either hot or lackluster, but mostly it is difficult for anyone who is seeking a job or hiring.
There are plenty of companies searching for employees, but jobs are nonetheless elusive for many. It's a job market of contradictions.
Employers aren't making it easier for job seekers, and may be suffering from expectation inflation. Some employers want superstars, with resumes as rich as the high school student who not only played quarterback for the football team, but led the math club to a state tournament, had a leading role in Macbeth and hit a 4.0 GPA.
A different problem faces a manufacturing company that makes fork lifts and other types of systems used to move materials around. It has about 16 IT job openings in product development and business operations. The problem the company faces is attracting candidates to its location in small town with a population of 3,000. The closest large city is 60 miles away.
Hiring a new graduate out of college is not as difficult as getting someone with experience, such as a software architect. Experienced workers often don't want to relocate or switch jobs.
The U.S. experienced a net gain in 80,000 jobs last month, another month of weak hiring. That included a net gain of 8,200 IT jobs, from the prior month, said Foote Partners. Foote sees the increase as continuing evidence that IT professionals are "desired and being hired."
Not so, says Janco Associates, another firm that tracks that IT labor market. Janco said it only counted 3,400 jobs, or 4.25%, that were in IT, describing the figures as weak growth.
But the analysts seem to agree that it can be a difficult market for job seekers.
Historic IT Job Market Size

Updated with current data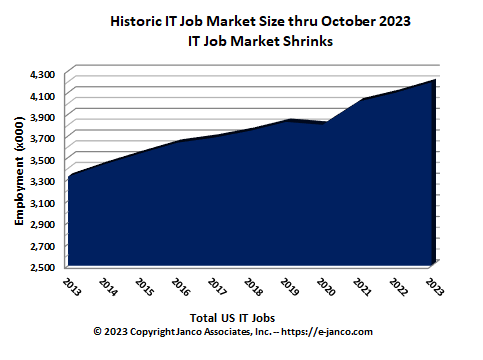 For current data go IT Job Market Size to see the historic job market growth trend detail data
Foote says the skills most in demand with employers "may be elusive to large numbers of unemployed and underemployed tech workers."
Janco says the IT market is struggling, and said the number of people looking for jobs is at record lows. This labor force participation rate is the lowest it has been since 1980.
"With low hiring demand and low participation rate the picture is not pretty for recent IT graduates and other IT professionals looking for new jobs," Janco said in its report.
Order IT Salary Survey Download IT Salary Survey Summary
Order IT Salary Survey Download IT Salary Survey Summary
Salary Survey Standard
Median salary data all cities in the survey in the PDF report
Single paragraph summary job description of the 73 positions surveyed
Full Salary Survey Report
Salary data for each city surveyed in the report
Update service Available
Salary Survey & Excel Data
Full Salary Survey Report
Salary data for each city surveyed in the report plus an Microsoft EXCEL spreadsheet
Update service Available
IT Hiring Kit - Standard Edition
Latest IT Salary Survey -

Salary Survey Job Descriptions (PDF) 
Interview and Hiring Guide (WORD and PDF)
IT Hiring Kit - Silver Edition
IT Hiring Kit Standard Edition

Salary Survey Job Descriptions (Word) The IT job descriptions are provided as 73 individual word files using long file names.
IT Hiring Kit - Gold Edition
IT Hiring Kit - Siliver Edition
324 Internet and IT Job Descriptions (MS WORD and ePub)
IT Hiring Kit - Platinum Edition
IT Hiring Kit - Gold Edition
Internet and IT  Positions Description HandiGuide®(PDF)