IT Bonuses are Back
Janco and eJobDescription survey shows that IT salaries and hiring are slowly rising as companies gradually bring more operations in-house
Compensation and hiring for IT professionals are gradually rising and have just reached January 2008 levels, according to a study from Janco Associates titled "Mid-Year 2012 IT Salary Survey." The report is a mixed bag for IT pros. Enterprises are bringing help desks and data center operations back under their control to improve service levels and reduce costs, which has led to higher demand for data center managers.
IT Median Salaries Current Data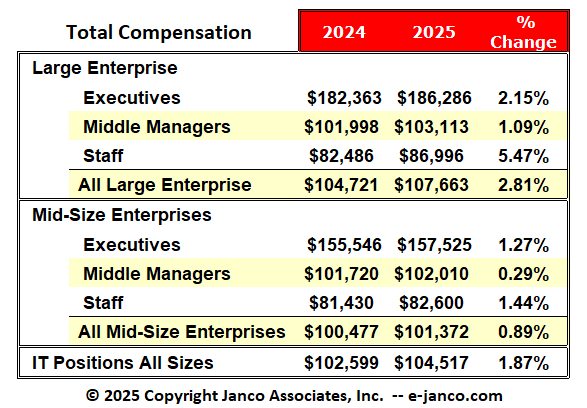 We have replaced the prior chart with the one from the latest IT Salary Survey.This was done in order to provide the best information possible. Prior to doing that the various search engines would not place our data in high ranking search engine positions.
According to Victor Janulaitis, CEO of Janco, several factors are driving that shift away from offshoring. Among them, "cost savings versus customer service now is starting to weigh in favor of on-shore operations," he told InfoWorld. "[Also], customers are getting very frustrated with off-shore help desks where non-native speakers do not communicate well with U.S. English speakers. Many help desks already have U.S.-based second-level support to deal with customers who do not interact well with off-shore help desk support."
Additionally, Janulaitis said that "high unemployment rates are tugging at the corporate conscience of senior management."
Demand for IT executives (leaders and staff IT professionals, in Janco parlance) at midsize companies has also been particularly robust, a precursor for future IT staff hiring and spending, according to the report. Yet companies are hiring more contractors and part-timers to work on key projects, which is great if you're a freelance IT worker but less so if you're hungry for full-time work.
IT professionals have witnessed changes to benefits in the past year, most of which are positive though still generally below levels from a couple of years ago. Among them, there was a 5 percent increase in the number of employees receiving personal performance bonuses and a 4 percent increase in those receiving enterprise-based performance bonuses. "Bonuses are a leading indicator that companies are looking for enterprise revenue improvements and want to motivate employees to focus on improving the company's bottom line over and above everything else," Janulaitis said.
According to the study, 92 percent of IT professionals now have health insurance, up from 86 percent in 2011. (The number was at 95 percent in 2008.) However, according to the report, IT pros are contributing more to those costs. Sixty-five percent of IT pros enjoy 401(k) benefits, up 2 percent from 2011, though down from 71 percent in 2007. There's been a 2 percent increase in work-related trips (trade shows, training, and off-site meetings, for example), up from 49 percent last year but overall down 63 percent in 2007.
Meanwhile, there was a 2 percent dip in the number of IT professionals with flex time, down from 56 percent in 2011 and way down from 67 percent in 2008. Only 14 percent of IT professionals receive stock options, down 4 percent since last year and down 31 percent from 2006.
Order IT Salary Survey Download IT Salary Survey Summary
Order IT Salary Survey Download IT Salary Survey Summary
Salary Survey Standard
Median salary data all cities in the survey in the PDF report
Single paragraph summary job description of the 73 positions surveyed
Full Salary Survey Report
Salary data for each city surveyed in the report
Update service Available
Salary Survey & Excel Data
Full Salary Survey Report
Salary data for each city surveyed in the report plus an Microsoft EXCEL spreadsheet
Update service Available
IT Hiring Kit - Standard Edition
Latest IT Salary Survey -

Salary Survey Job Descriptions (PDF) 
Interview and Hiring Guide (WORD and PDF)
IT Hiring Kit - Silver Edition
IT Hiring Kit Standard Edition

Salary Survey Job Descriptions (Word) The IT job descriptions are provided as 73 individual word files using long file names.
IT Hiring Kit - Gold Edition
IT Hiring Kit - Siliver Edition
324 Internet and IT Job Descriptions (MS WORD and ePub)
IT Hiring Kit - Platinum Edition
IT Hiring Kit - Gold Edition
Internet and IT  Positions Description HandiGuide®(PDF)