Survey: 73 Percent Plan to Hire in '12 Second Half
Analysts have different views of CIO hiring plans
A Computerworld article looks at the various ways analysts slice and dice the tech labor market, with industry group TechServe Alliance taking a rosy view of the overall disappointing May job numbers, but David Foote, the CEO of Foote Partners, and Janco Associates finding less to crow about. The differences in large part are whether you look only at the Labor Department categories or look at other IT/business "hybrid" positions.
---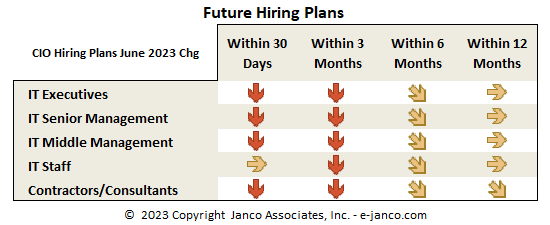 Current Data - See Current IT Hiring Trends
---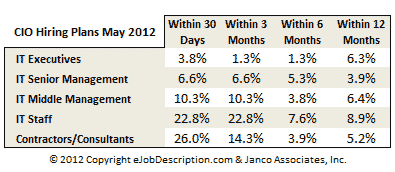 It quotes the CEO of the TechServe Alliance, saying:
IT [employment] remains robust, without question. Corporations are still investing in technology, and when you invest you need to have people to develop and maintain it.
Foote counters that the jobs data is not going in the right direction, saying:
People are getting nervous, and at this point the trend is not to hire.
Meanwhile, a new Dice survey finds 73 percent of 800 IT-focused recruiters and hiring managers looking to hire in the second half of 2012, up from 65 percent for the first half of the year. (Full disclosure: I blog for Dice, too.) Only 37 percent said turnover has increased this year.
The May numbers do show continuing growth in consulting services. Tech consulting grew by more than 70,000 positions last year and by 16,000 positions in the first quarter, according to the Bureau of Labor Statistics. And Dice notes that consultants tend to make, on average, $20,000 more than their full-time counterparts.
The new survey found HR pros slightly favoring IT candidates with two to five years of experience, while hiring managers favored workers in the field for six to 10 years.
More said hiring times had shortened (24 percent) than six months ago (17 percent), which they attributed to trying to fill new positions. But 45 percent said time-to-fill had grown longer, largely due to difficulty in finding qualified candidates, but also because hiring managers are looking for those "purple squirrels" — perfect candidates with the specific list of hard-to-find skills.
Order IT Salary Survey Download IT Salary Survey Summary
Salary Survey Standard
Median salary data all cities in the survey in the PDF report
Single paragraph summary job description of the 73 positions surveyed
Full Salary Survey Report
Salary data for each city surveyed in the report
Update service Available
Salary Survey & Excel Data
Median salary data for all cities in the survey in the PDF report
Single paragraph summary job description of the 73 positions surveyed
Full Salary Survey Report
Salary data for each city surveyed in the report plus an Microsoft EXCEL spreadsheet
Update service Available
IT Hiring Kit Standard Edition
Median salary data all cities in the survey in the PDF report
Single paragraph summary job description of the 73 positions surveyed
Full Salary Survey Report
Salary data for each city surveyed in the report plus an Microsoft EXCEL spreadsheet
73 full multi page job descriptions in PDF format
Update service Available
IT Hiring Kit Standard Edition
Median salary data all cities in the survey in the PDF report
Single paragraph summary job description of the 73 positions surveyed
Full Salary Survey Report
Salary data for each city surveyed in the report plus an Microsoft EXCEL spreadsheet
73 full multi page job descriptions in PDF format
73 full multi page job descriptions in Microsoft WORD format - one file for each job description utilizing long file names
Update service Available
IT Hiring Kit Standard Edition
Median salary data all cities in the survey in the PDF report
Single paragraph summary job description of the 73 positions surveyed
Full Salary Survey Report
Salary data for each city surveyed in the report plus an Microsoft EXCEL spreadsheet
73 full multi page job descriptions in PDF format
260 full multi page job descriptions from the Internet & IT Position Descriptions HandiGuide in PDF format
Update service Available
IT Hiring Kit Standard Edition
Median salary data all cities in the survey in the PDF report
Single paragraph summary job description of the 73 positions surveyed
Full Salary Survey Report
Salary data for each city surveyed in the report plus an Microsoft EXCEL spreadsheet
73 full multi page job descriptions in PDF format
260 full multi page job descriptions from the Internet & IT Position Descriptions HandiGuide in Microsoft WORD format - one file for each job description utilizing long file names
Update service Available