IT Executive Salary Trends
Salaries for IT Executives has remained relatively flat and have not kept up with inflation
IT executive salaries tend to mimic the economy at large. The economic conditions over the last four years have not yielded much in the way of salary growth for senior IT professionals. Many most likely feel lucky to have a job at all.

According to the recent 2011 Mid-Year IT Salary Survey from Janco Associates, the salary for most senior IT positions remained flat between June 2010 and June 2011. CIOs for large companies ( > 500MM revenues ) saw a 2 percent increase in total compensation, compared with the same period a year ago. Five of the top CIO direct reports experienced salary reductions.
CIOs at medium-sized companies (<$500 million revenues) also received a modest compensation reduction. Many of their direct reports received a modest increase. VPs of Technical Services and VP Chief Security Officer received the largest raises according to the study.
Here is a sampling of several IT job titles and the corresponding average salaries from the survey:
CIO - June 2011, Total Compensation: $175,363, June 2010 Total Compensation: $171,839 Change+2.05%


VP Security (Chief Security Officer) - June 2011 Total Compensation: $146,512, June 2010 Total Compensation: $149,163 Change: -1.78%


VP Information Services - June 2011 Total Compensation: $134,338, June 2010 Total Compensation: $137,513 Change: -2.31%


Director IT Planning - June 2011 Total: $126,309 June 2010 Total Compensation: $125,705 Change: +0.48%


Director, Systems Programming - June 2011 Total Compensation: $143,152 June 2010 Total: $144,157 Change: -0.70%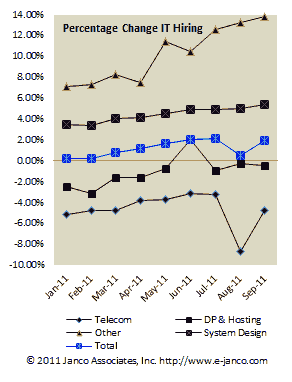 IT Job Market Employment Gains
There has been a slight increase in the overall employment of IT professionals. For the last few months the number of individuals employed in IT has increased (seasonally adjusted) 54,200 in the last 12 months while still showing a loss of 6,900 jobs in the last 3 months.


Health Care vs. Financial Services Job Growth

Overall Historic IT Job Market