IT hiring improves with 38,100 IT jobs added
Not enough to consider a recovery has started -- there has been a loss of 6,900 IT related jobs in the last 3 months
Janco reports that the IT job picture has improved slightly.  The CEO of Janco, Victor Janulaitis said, "38,100 jobs were added in IT with the bright spot being computer system design and related services." Janulaitis also said, "According to the BLS data there was a recovery in telecommunications job market with 30,300 jobs recovered of the 54,600 lost in August, computer system design and related services added 6,800 jobs, Other Information services added 1,400 jobs while Data Processing and hosting services lost 400 jobs. The net result was that IT accounted for 36.9% of the 103,000 jobs that were added in the total US job market."  He added, "Still for the last three months, there has been a loss of 6,900 jobs."
Janulaitis added, "The Labor Department report of 103,000 jobs in September – and 38,100 in the Information Technology sector is lower than the 130,000 needed for the US economy to stay even with adult population growth." Janco feels the IT job market will not show meaning full growth until the 2nd quarter of 2012.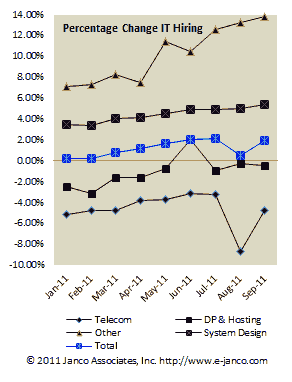 IT Job Market Employment Gains
There has been a slight increase in the overall employment of IT professionals. For the last few months the number of individuals employed in IT has increased (seasonally adjusted) 54,200 in the last 12 months while still showing a loss of 6,900 jobs in the last 3 months.


Health Care vs. Financial Services Job Growth

Overall Historic IT Job Market