Job growth poor at best for IT professionals
Job growth anemic for IT professionals
BLS National Employment Report Summary more positive than the data
Job growth poor at best for IT professionals - The February 2011 U.S. Department of Labor National Employment Report shows sluggish growth in the Information Technology job market.  Janco Associates has analyzed the data and finds a net gain of only 2,600 seasonally adjusted jobs in February for the IT sector. In addition, for the last three months (December 2010 through February 2011) there has only been an increase of 5,300 seasonally adjusted number of jobs. In the last 12 months the total number of jobs has gone from 2,729,300 to 2,736,600 - an increase of 7,300 (7,900 unadjusted) jobs. The unadjusted number of jobs shows a loss of 10,400 jobs. 
The CEO of Janco, Victor Janulaitis said, "While the report that was published paints a much more positive picture, the data for the IT sector shows continued stress in Telecommunications with a loss of 43,700 jobs in the past twelve months which is countered with a growth of 48,500 jobs in Computer System Design and Related Services." He added, "The overall growth of the 7,300 jobs is not enough to cover the recent college graduates and does not bode well for the Class of 2011."
Based on this data and interviews that Janco has conducted, the CEO said they predict there will be more churn in IT staff as CIOs accelerate their move to more flexible staffing models. Janulaitis added, "CIOs are outsourcing more technical work, including managed IP services such as VoIP and VPNs. They are hiring more contractors for desktop and security services, and they are putting more applications such as remote backup in the cloud. At the same time, they are looking to hire IT people with business and analytical skills, such as risk management and project management. "

Janco has found that despite recent economic reports that show jobless claims have been down for several consecutive weeks, employees reveal mixed feelings about what is in store at their employer, for the overall job market and for their pay check in the year ahead, according to the fourth-quarter employment confidence survey of 2,118 U.S. adults.
The tables below show the net chage in the number of jobs and the total IT Job Market.

Employment data February 2010 to February 2011

---
Current Median IT Salaries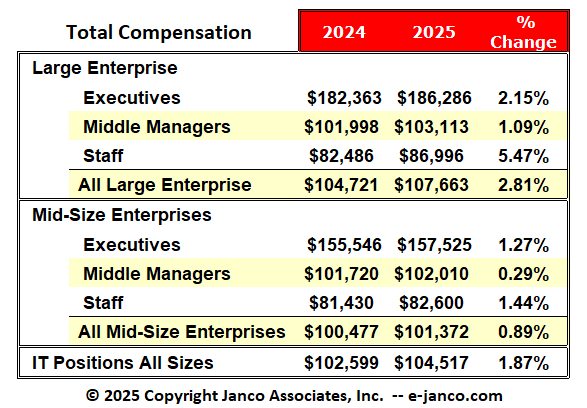 For the latest data go to the current IT Salary Survey
---