Job losses continue - IT Hiring Remains Sluggish
The slight increase in I.T. jobs in November was not enough to absorb available information technology graduates and unemployed IT professionals...
Park City, UT - Total employment in I.T. increased only 0.17% in November seasonally adjusted, according to Janco Associates Inc., a management consulting firm that focuses on information technology. Janco bases its report on data from the December 2010 U.S. Department of Labor National Employment Report.
Historic IT Job Market Size

Updated with current data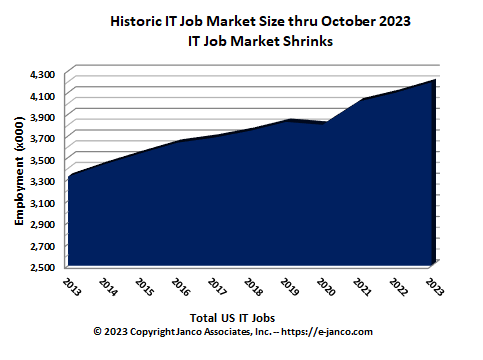 For current data go IT Job Market Size to see the historic job market growth trend detail data
The CEO of Janco, Mr. M.V. Janulaitis said, "There has been a slight increase in employment numbers in system design and I.T. services and other Information Services," He added. "This has not been enough to absorb the displaced employees from prior periods nor address the issue of recent entrants into the I.T. job market who cannot find work."
Total I.T. employment, seasonally adjusted, reached 2,781,200 in November, up less than 0.1% from October and 0.17% - 2,776,400 - from November 2009 - an increase of only 4,800 jobs. Janulaitis said, "With this anemic increase of jobs there is little to no room for recent computer science graduates and existing un-employed IT professionals to find work. In addition, outsourcing has eliminated many of the entry level positions that these individuals could take -- painting a very grim picture."
Based on this data and interviews that Janco has conducted, Janco predicts there will be more churn in IT staffs as CIOs accelerate their move to more flexible staffing models. CIOs are outsourcing more technical work, including managed IP services such as VoIP and VPNs. They are hiring more contractors for desktop and security services, and they are putting more applications such as remote backup in the cloud. At the same time, they are looking to hire IT people with business and analytical skills, such as risk management and project management. CIOs report that they're having trouble hiring IT people because either they can't find IT professionals with the right business skills or they can't afford them. All of this means more turnover in IT departments.
Janco's I.T. employment figures broken down into four sectors, with seasonally adjusted November 2010 jobs in each category in thousands from November 2009: Telecommunications a decline of 40,800 jobs; Data processing, hosting and related services an increase of 6,800 jobs; and Other information services, a slight increase 8,400 jobs; and Computer systems design and related services and increase of 42,000 jobs.
Janco is a Mountain States based consulting firm that publishes the IT Salary Survey, Browser Market Data, and the IT Infrastructure HandiGuide® series of books used by IT, finance, human resources and other professionals as the source of information on topics from policies and procedures, to job descriptions and responsibilities.
National Employment Report
The December 2010 U.S. Department of Labor National Employment Report, showed a slight increase for IT-related jobs in November, following a gain of jobs in September and October..
Janco tracks ups and downs in employment in five key job categories – IT services, computer systems design, data processing and telecommunications. Data for the past 12 months shows a minor gain in jobs for Information Services and computer systems design and related services.

Chart updateed with current data. For detail analysis go to
IT Job Market
.

---
Current Median IT Salaries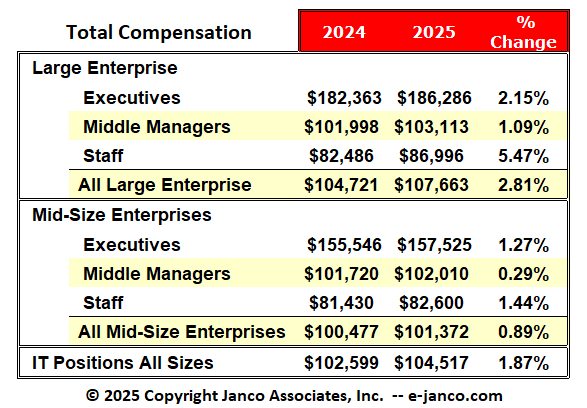 For the latest data go to the current IT Salary Survey
---