BYOD one of few well-paid IT jobs
BYOD one of few well-paid IT jobs - Bring-Your-Own-Device programs aren't quite grabbing headlines to the same degree they were a year ago. But don't think they aren't very popular. They are in fact the number one area of IT in which job opportunities abound.
That is the conclusion of new research from Janco Associates, which polled nearly 1,000 companies on their BYOD practices and policies. The firm found that while IT salaries are pretty flat for the most part, IT jobs around BYOD program needs were an exception. "Indeed, BYOD is one of the only bright spots," notes CIO.
"If you have knowledge and ability to work with BYOD, either in implementation, support or development, this increases your value," M. Victor Janulaitis, CEO at Janco Associates is quoted as saying.
BYOD is leaving its mark on a number of IT job roles the research reveals. Especially hot are the roles of supervisor of hardware installations and supervisor of BYOD desktop support. Other roles being impacted by BYOD include help desk, mobile app development, security and compliance.
"There's no question BYOD has far reaching implications," the article notes. "App developers are busy redesigning Web applications so that information can be rendered on BYOD smartphones and tablets touting an array of screen sizes. BYOD is opening doors to cloud services and shutting them on legacy desktop software. BYOD has even breathed new life into the virtual desktop."
Historic IT Job Market Size

Updated with current data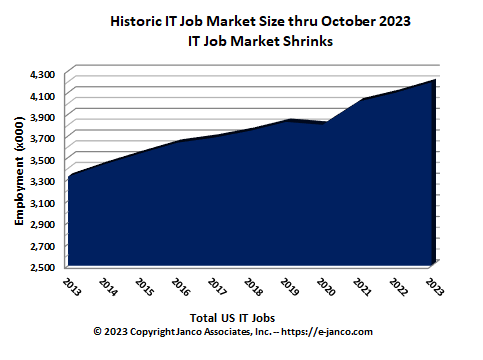 For current data go IT Job Market Size to see the historic job market growth trend detail data
Current IT Job Market Growth
9,300 IT jobs lost YTD. Detail analysis of the IT Job Market is available.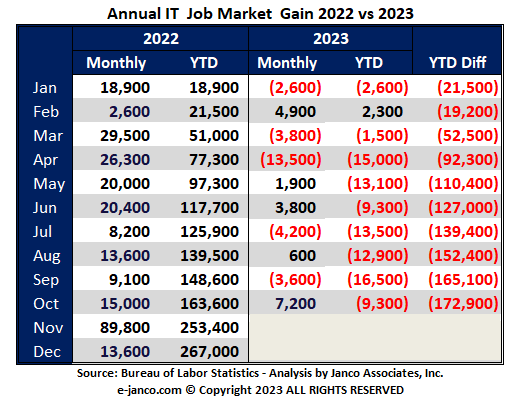 Order IT Salary Survey Download IT Salary Survey Summary