Tech Jobs Market Shrinks again
September Data From BLS is Suspect But Does Show That IT Job Market Has Shrunk
Investors.com reports:
The information technology job market in the U.S. shrank by 6,600 jobs in September, and the number of IT jobs supposedly added in July and August was slashed, consulting firm Janco Associates reported Friday.

The jobs picture for IT professionals is not bright, Janco CEO Victor Janulaitis said in a statement. Complicating matters is the fact that the IT jobs numbers from the U.S. Bureau of Labor Statistics have proved unreliable recently, he said.
Historic IT Job Market Size

Updated with current data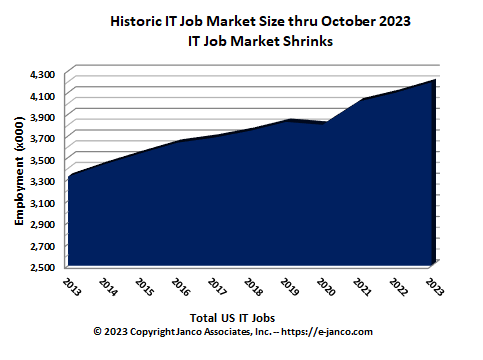 For current data go IT Job Market Size to see the historic job market growth trend detail data

"Looking back at historical data, it seems the BLS data over-reports the number of jobs created and then adjusts downward," Janulaitis said. "The BLS keeps on downgrading the number of (IT) jobs that are created in a given month, one or two months after the fact."

In data out Friday, the BLS adjusted down the number of IT jobs added in August to 3,200 from 12,400. And it cut the number of jobs added in July for the second straight month. The BLS now says 11,000 IT jobs were added in July, down from its September estimate of 13,600 and August estimate of 20,400. Janco parsed the latest BLS data to come up with the decline of 6,600 IT jobs in September.

The stock market responded positively to the news that the U.S. unemployment rate had dipped to 7.8% in September from 8.1% in August. But while the overall U.S. job market added 114,000 jobs, more than 400,000 people dropped out of the labor force, Janulaitis said. Most of the jobs added were in the public sector, he said.

The Dow Jones Industrial Average climbed to its highest level in nearly five years Friday on the jobs report, Reuters reported. The S&P 500 is also near a five-year high. The unemployment rate is its lowest since January 2009.

The latest jobs data provided fodder for the 2012 election.

"This is not what a real recovery looks like," Republican presidential candidate Mitt Romney said. "We created fewer jobs in September than in August, and fewer jobs in August than in July, and we've lost over 600,000 manufacturing jobs since President Obama took office."

The drop in the unemployment rate could provide a boost to the re-election hopes of President Barack Obama, Reuters said.

"This morning, we found out that the unemployment rate has fallen to its lowest level since I took office," Obama told a crowd of supporters at George Mason University in Fairfax, Va., on Friday, Yahoo News reported. "More Americans entered the work force, more people are getting jobs."

The jobs report was downbeat for tech, but a continuing of chief information officers by Janco finds that many company CIOs are cautiously optimistic that IT hiring will improve in 2013. "In telephone interviews in late September of 92 U.S.-based CIOs, we found that many are looking ahead to a brighter future with increased staffing in late spring and early summer," Janulaitis said. "CIOs are keeping their current overall (full-time equivalent) head counts level but are looking to replace consultants and contractors with full-time employees."

But CIOs were less optimistic in the recent survey than they were in the prior survey, Janulaitis told IBD. "A month and a half ago, one in five (companies) was going to be hiring. Now it's one in 10."

---

Current Median IT Salaries


For the latest data go to the current IT Salary Survey

---
Order IT Salary Survey Download IT Salary Survey Summary
Salary Survey Standard
Median salary data all cities in the survey in the PDF report
Single paragraph summary job description of the 73 positions surveyed
Full Salary Survey Report
Salary data for each city surveyed in the report
Update service Available
Salary Survey & Excel Data
Full Salary Survey Report
Salary data for each city surveyed in the report plus an Microsoft EXCEL spreadsheet
Update service Available
IT Hiring Kit - Standard Edition
Latest IT Salary Survey -

Salary Survey Job Descriptions (PDF) 
Interview and Hiring Guide (WORD and PDF)
IT Hiring Kit - Silver Edition
IT Hiring Kit Standard Edition

Salary Survey Job Descriptions (Word) The IT job descriptions are provided as 73 individual word files using long file names.
IT Hiring Kit - Gold Edition
IT Hiring Kit - Siliver Edition
324 Internet and IT Job Descriptions (MS WORD and ePub)
IT Hiring Kit - Platinum Edition
IT Hiring Kit - Gold Edition
Internet and IT  Positions Description HandiGuide®(PDF)