IT salaries edge up back to 2008 levels
Average IT salaries edged up slightly in 2011, but enterprise and midsize companies alike are hungry to fill particular IT roles
IT salaries edge up back to 2008 levels - over the past year, the average IT salary has seen a modest increase of 0.81 percent to $78,299, putting overall compensation back at January 2008 levels. That may not be cause for partying like it's 1999, but Janco's 2012 IT Salary Survey, which will officially be released on Jan. 10, does contain nuggets of good news for certain IT professionals.
In general, according to Janco, the United States added 33,100 IT jobs since last January, while layoffs have tapered off. Still, cost cutting remains a high priority at organizations nationwide, which has led to increased hiring of part-time and contract IT employs working on critical projects. Full-timers, meanwhile, have continued to see a reduction in benefits. For example, IT professionals are required to pay for a greater portion of their health insurance. Meanwhile, bonuses have been reduced or eliminated at many companies.
On the other hand, companies are increasingly offering IT professionals more flexible work schedules as the recovery takes hold, which, according to Janco, represents low-cost, high-value benefit for employees and employers alike.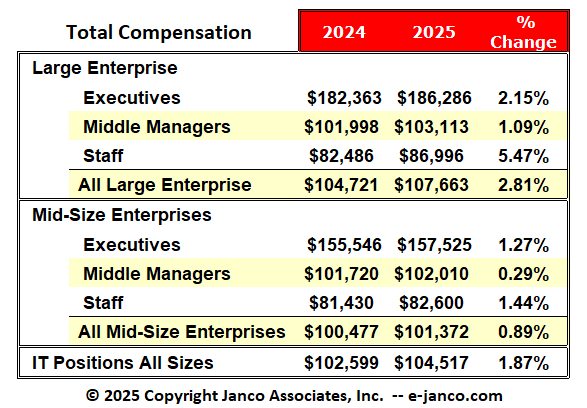 Digging into the numbers, IT pros at large companies earn $81,644 on average, up from $81,273. Those at midsize companies take home $74,435, up 1.19 percent from $73,934. But some IT pros saw nice pay boosts whereas other took losses over the past year. The biggest winners at large enterprises (in terms of pay increase by percentage) include:
Network services supervisors, who got an average boost of 6.7 percent from $53,754 to $57,358
Programmers/analysts, who enjoyed an average total increase of 6.14 percent from $75,420 to $80,051
VPs of technical services, who saw their total pay increase by 5.36 percent from $141,531 to $149,118
LAN application support analysts, who reaped an average 5.13 percent salary increase from $60,075 to $63,159
Librarians, who earn 5.12 percent more than a year ago, up from $43,770 to $46,010
At midsize companies, the biggest winners included:
Librarians, whose total average compensation jumped 11.35 percent from $41,037 to $45,694
Computer operations shift managers, who now earn on average $68,187, up 10.75 percent over last year's $61,569
Change control analysts, whose total salary increased by 6.57 percent from $51,636 to $55,030
Computer operations managers, who take home $86,287, up 6.46 percent from $81,051
Information center managers, who make an average of $63,986, up from $60,188 by 6.31 percent
Beyond salaries, companies are hungry to fill particular IT positions as the recession draws to an end, both on a full-time and contract basis. Midsize companies are seeking IT executives (such as VPs of information services and technical services), programmers, midlevel infrastructure managers and supervisors, database specialists, software engineers, system programmers, systems analysts, and voice/wireless communication pros.
Enterprises, meanwhile, are moving IT and data center operations back in-house, which means greater demand for data center managers and supervisors for such departments as computer operations, Internet systems, capacity planning, network services, and production services. LAN application support analysts, librarians, operations analysts, and Web analysts are also in demand at large companies.
Alas, other IT positions experienced a salary drop over the past year. The pros who took the biggest hits at large companies include:
Senior network specialists, whose total average salary dropped 7.49 percent from $85,468 to $79,069
Operation analysts, who on average earn 4.45 percent less, down from $61,915 to $59,160
OS production managers, who now have an average total salary of $93,346, a 4.18 percent drop from $97,413
Technical services specialists, whose average total salary is now $63,160, a 4.14 percent drop from $65,888
As for the biggest salary drops at midsize companies:
VPs of security (or CSOs) saw their total average salary drop by 8.24 percent, from $128,828 to $118,212
Production services managers, who lost 6.74 percent of their total average pay, from $92,107 to $85,900
Training and documentation managers, whose total average salary decreased by 4.4 percent from $64,043 to $61,224
Production services supervisors, the average salary for whom is now $69,092, down 3.23 percent from $71,975
Finally, demand for CIOs is also on the rise, particularly at midsize companies. CIO compensation has been a mixed bag: Base salaries are higher, whereas bonuses are lower. The mean compensation for CIOs at large enterprises is now $176,659, representing a decrease of 2.68 percent. At midsize companies, CIOs are earning $164,342 on average, an increase of 1.26 percent.
Order IT Salary Survey Download IT Salary Survey Summary
Salary Survey City Version
Salary data for a single city surveyed in the form of an Excel Spread Sheet
Median national salary data in the PDF report
Single paragraph summary job description of the 73 positions surveyed
Abbreviated Salary Survey Report PDF
Salary Survey Standard
Median salary data all cities in the survey in the PDF report
Single paragraph summary job description of the 73 positions surveyed
Full Salary Survey Report
Salary data for each city surveyed in the report
Update service Available
Salary Survey & Excel Data
Median salary data for all cities in the survey in the PDF report
Single paragraph summary job description of the 73 positions surveyed
Full Salary Survey Report
Salary data for each city surveyed in the report plus an Microsoft EXCEL spreadsheet
Update service Available
IT Hiring Kit - Standard Edition
Latest IT Salary Survey -

Salary Survey Job Descriptions (PDF) 
Interview and Hiring Guide (WORD and PDF)
IT Hiring Kit - Silver Edition
IT Hiring Kit Standard Edition

Salary Survey Job Descriptions (Word) The IT job descriptions are provided as 73 individual word files using long file names.
IT Hiring Kit - Gold Edition
IT Hiring Kit - Siliver Edition
324 Internet and IT Job Descriptions (MS WORD and ePub)
IT Hiring Kit - Platinum Edition
IT Hiring Kit - Gold Edition
Internet and IT  Positions Description HandiGuide®(PDF)