Electronic forms added to Security Policies and Procedures Template
Janco Associates has just released version 9.1 of its popular Security Manual Template. Included with this update are fourteen electronic forms which are needed by any organization that wants to manage its security policies and procedures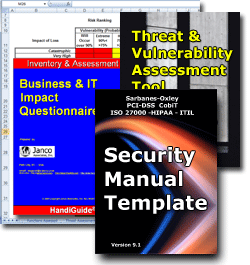 Electronic forms added to Security Policies and Procedures Template - Janco Associates has just released version 9.1 of its popular Security Manual Template. Included with this update are fourteen electronic forms which are needed by any organization that wants to manage its security policies and procedures. The CEO of Janco Victor Janulaitis said, "We have found that it is much easier and less costly to use electronic forms which can be emailed, filled out on a computer or tablet, and filed electronically than using traditional paper forms. " In addition, "This also paves the way to a very green solution which utilizes technology to reduce the overhead in managing the security requirements of enterprises of all sizes." He added, "With the ever increasing mandated compliance requirements we have updated this template four times in the last twelve months. We continue to update all of our products to meet both management requests and mandated requirements."
The CEO also stated, "Over 3,000 enterprises in over 90 countries have chosen this tool as their solution to common requirement. It is viewed by many as the industry standard for Disaster and Contingency Planning."
Version 9.1 of the Security Manual Template has been updated to comply with the soon to be required ISO 22301 standard in addition to the inclusion of the fourteen electronic forms. Each of the forms comes as separate word (.docx) files that are set to be filled in directly. In addition the forms can be modified to meet individual organizational needs. The forms included are Blog Policy Compliance; Company Asset Employee Control Log; Email - Employee Acknowledgment; Employee Termination Checklist; Internet Access Request; Internet Use Approval; Internet & Electronic Communication - Employee Acknowledgment; Mobile Device Access and Use Agreement; New Employee Security Acknowledgement and Release; Preliminary Security Audit Checklist; Security Access Application; Security Audit Report; Security Violation Reporting; and Sensitive Information Policy Compliance Agreement . The template and forms are delivered electronically and come as an easily modifiable Microsoft WORD files.
The template is over 240 pages long and includes everything needed to implement world class security policies which fit your organization's specific requirements.
The document includes proven written text and examples. Areas cover are: Business Impact Analysis - including a sample impact matrix ; risk analysis; staff member roles; physical security; electronic communication (email / Smartphones); blogs and personal web sites; facility design, construction and operations; media and documentation; data and software security; mobile device access and use; network security; Internet and IT contingency planning; insurance; outsourced services; waiver procedures; employee termination procedures and forms; incident reporting procedures ; access control guidelines; PCI DSS audit program as a separate document ; security compliance checklists.