Despite Lower Unemployment, IT Loses Jobs
IT sector lost 3,900 jobs, including 2,900 telecom positions
Despite Lower Unemployment, IT Loses Jobs - The struggling U.S. economy had something to cheer about Friday as the U.S. Labor Department reported a drop in the unemployment rate, but the IT sector isn't benefitting.
Unemployment in November fell from 9 percent to 8.6 percent, the Labor Department's Bureau of Labor Statistics (BLS) announced, and nonfarm payroll employment rose by 120,000. That's the lowest unemployment rate in 2 1/2 years since March 2009, according to The Washington Post.
The government noted improvements in such industries as retail trade, leisure and hospitality, professional and business services, and health care.
The IT sector wasn't so fortunate: It lost 3,900 jobs, including 2,900 telecom positions, Janco Associates announced, citing BLS statistics. The IT sector lost 5,100 jobs in October, according to Janco Associates.
"In many companies IT is viewed as a cost center with head counts and capital budgets under constant scrutiny," Janco CEO M.V. Janulaitis said in a statement. "IT jobs are typically not being cut, rather openings are left unfilled."
Another sobering reminder of Americans' struggles: 315,000 workers gave up looking for work, The Los Angeles Times reported.
"When you see the unemployment rate fall because people drop out of the labor force, you can't be too happy about that," the Times quoted Dean Baker, co-director of the Center for Economic and Policy Research, as stating.
Historic IT Job Market Size

Updated with current data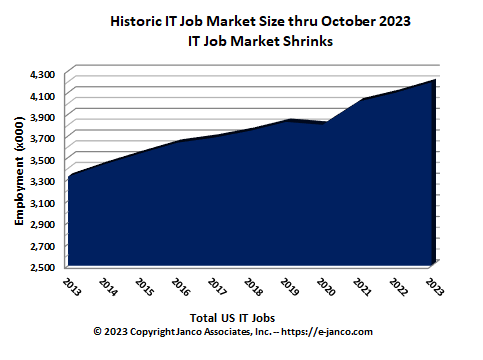 For current data go IT Job Market Size to see the historic job market growth trend detail data
Net Change in Number of IT Jobs - Latest Data