2011 Windows IT Salary Survey: Bigger Bucks
Compensation has gone up and raises and bonuses made a comeback after a mostly flat year in 2010
Redmond's 16th annual IT Salary Survey offers some rays of good news this year: Salaries, raises and bonuses have all gone up in the 12 months since they last surveyed readers. The increase in average salary, to $84,608, is 1.2 percent higher than (and nearly double) last year's flat 0.6 percent increase over 2009. Still, it might take some time before we see salary increases like we saw employers dole out before the darkest days of the recession. Hopefully this will all be part of an attempt to retain the best employees, and these increases may actually come with the return of benefits like stock options, 401(k) matching and training dollars.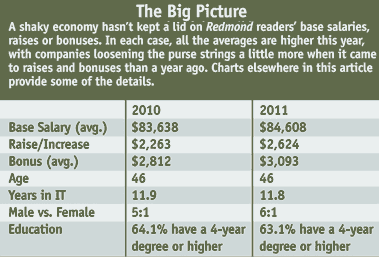 What Redmond found was that most ranges fell slightly from last year, but if you look at ranges between $80,000 and $99,999, you'll find that those categories increased. Viewed by percentage, those ranges look even better: The number of respondents who said their salaries ranged between $90,000 and $94,999 was higher by 52 percent over 2010, while those in the $85,000-$90,000 and $95,000-$99,999 categories were up by 18 percent.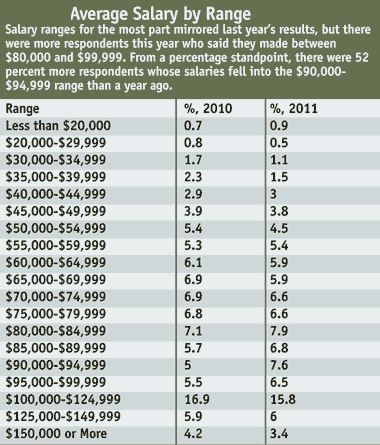 And, finally, it's always a good idea to benchmark results in the context of the real world (Redmond's survey, after all, is just a measure of Redmond readers' earning power). For that, we look to other salary surveys. A good one comes from information systems management consulting firm Janco Associates Inc. Janco's 2011 report shows median salaries from 2010 ($77,604) to 2011 ($77,873) increasing by an anemic 0.35 percent. By that standard, our results appear quite liberal.
Base salary is just one part of the compensation picture, of course. There's good news with raises, too. Year over year, raises went up 15 percent, with the average among those who received one at $2,624. That figure includes those who said they received no raise; counting only those who said they received a boost, it goes up to $4,249. When we look at chart below which shows raises by range, we find that more than half of respondents reported receiving a raise of up to $10,000. And here's another piece of good news, if you can call it that: Only 36 percent of all respondents reported no increase, which is 4 points fewer than last year.