Could economy cause IT pros to crack?
Too much work may sound like a good problem
---
Could economy cause IT pros to crack? - IT professionals taking on more work in light of the current economic climate identified rising workloads as the greatest source of workplace stress, according to research from Robert Half Technology.
The IT staffing and consulting firm has released results of a poll of 1,400 CIOs that asked what stresses IT professionals most. More than one-third (36 percent) reported increasing workloads as the primary source of workplace worry. The pace of new technology followed, with 22 percent, and office politics taxed some 18 percent of respondents. The survey revealed that other stressors for IT professionals include work/life balance issues (11 percent) and commuting (7 percent).
"Too much work may sound like a relatively good problem to have in today's uncertain economic climate," says an executive director of Robert Half Technology. "But overstressed IT workers are unlikely to perform their best. The pressure of mounting workloads, combined with ever-evolving technologies and office politics, can quickly erode morale and adversely affect productivity."
The survey results should not be shocking, considering the pace at which IT budgets are being cut and hiring plans frozen in response to recent economic turmoil.
In June, for instance, the Society for Information Management polled more than 300 IT executives about their plans for IT spending in 2009, and in early October released results that showed 44 percent planned for bigger budgets and 43 percent intended to increase staffing. Three-quarters of those polled also expected to see IT staff salaries increase in 2009.
Yet a more recent tally from the CIO Executive Board revealed strikingly different spending plans. The late September survey of some 50 CIOs by the association for IT executives showed that more than half of those polled have put nonessential projects on hold and about one-fourth have decided to freeze IT hiring. And 61 percent of those surveyed admitted they were re-evaluating their 2009 budgets.
The director of network and systems at Brandeis University, said during an interview earlier this month that his IT budget has been directly impacted by the current economic crisis. "Our operating expenditure budgets have been frozen and cut, and we currently have a hiring freeze in effect," he reported. "There is an obvious direct financial impact to our institution when there is this amount of uncertainty in the market."
Janco Associates in September declared that financial firms' woes, would "glut the IT job market." According to Janco's estimates, more than 230 IT professionals at Lehman Brothers who make US$250,000 or more a year will be out of a job by year-end. At Merrill Lynch, more than 180 IT professionals making more than US$250,000 a year will be without work as well, Janco says.
IT professionals say they have seen workloads increase and job performance suffer. A recent discussion in Network World's online community showed that taking on more work could prove beneficial to some IT professionals, but others argue it could cause premature burnout.
"While I commend all those IT people putting in the extra effort, they need to understand that they are downgrading their worth. If you're a salaried employee, you are paid based on 40-hour weeks. All this added responsibility (skills) usually translates into 60-hour weeks or more, with no increase in pay," one comment reads. "I have seen a lot of people burn themselves out, become experienced in everything and good at nothing."
Order IT Salary Survey Download IT Salary Survey Summary
Current IT Job Market Growth
9,300 IT jobs lost YTD. Detail analysis of the IT Job Market is available.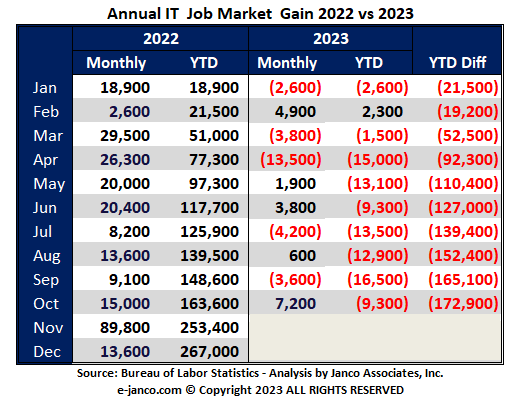 Summary Results and Changes in Demand for IT Jobs

Chart updateed with current data. For detail analysis go to
IT Job Market
.