Managing People Costs
>
Good People Are Vital But So Is Cost Containment
Managing Staff Costs - Limits Hiring - One of the toughest tricks IT managers at SMEs face these days is balancing costs with quality. When it comes to budgeting, personnel jumps off the ledger sheet as a major cost center. The question becomes one of saving money while saving jobs.
People costs are the single largest cost element for most data centers - personnel can consume as much as 40% of overall costs. Yet any SME looking to the future knows it is in its best interest to hold on to good workers through the economic storm so the company is positioned to emerge stronger when business turns around.
Because workforce-related spending is the largest single part of the IT budget, observers say one of the primary challenges for CIOs in 2010 will be finding ways to control labor costs while retaining good workers and keeping remaining personnel happy.
"Because SMEs run lean to start with, and people wear many hats, the most effective strategy in 2010 is to look hard at the skills needed to keep the organization running and growing," she says. "You'll need some depth. Longer term, you'll need to look at which skills to invest in and develop."
Worker Skillsets
Experts advise SMEs to review staffing levels and the types of skills needed for the next 24 months. Whether you are in-sourcing or outsourcing, understand the skills needed for the job. SMEs should maximize use of labor arbitrage benefits by using skills in regions with cheaper labor rates, such as India, Brazil, Poland, and Romania.
Victor Janulaitis, CEO of Janco Associates, isn't so sure. Although he agrees that some functions, such as payroll, are basically commodity services that should be given to the low bidder, he says it is unwise to outsource any vital function.
"You still have to be able to get work done. Don't outsource your core business to a third party," he says, noting the importance of having in-house people who can deal with key functions. Worse, every outsourced change order comes with a charge, he notes. There will be communication issues and delays in response time.
Some experts expect few changes in IT budgets, headcount, or staffing in 2010, and workers with Oracle, SAP, Java EE, Microsoft .NET, SOA, Java, and People-Soft skills are still in demand. They alos suggest looking at worker proficiency, not headcount, when considering costs.
"In the long run, it is probably better to keep existing employees as long as you can," Janulaitis agrees. However, he says that it is a good idea to hire new blood occasionally to assure fresh ideas come into the organization.
Manage Current Employees
Workers with jobs seem more content to "hang in there" for a while. A lower percentage of IT respondents to a recent study who cited dissatisfaction with their direct supervisor as a reason for employee turnover. There was also a notable drop in the percentage of respondents who listed noncompetitive compensation as a reason for IT professionals leaving their organizations.
These same experts feel the current run of worker complacency to the overall weakness of the job market, this is not the time for SMEs to be complacent with a zero- or low-employee turnover rate. They warn that the current economic situation may force some workers to stay with an unsavory job, but they will be out the door as soon as things perk up.
In any case, whether it involves a high-demand employee or IT supervisor, when everyone is being asked to cut back on salary, management must be seen as partners in surviving the hard times.
Simple things such as a pleasant work environment can get workers through tough times. "Let people know they are stakeholders in the enterprise and not just there at the convenience of the company," Janulaitis says. "People need to feel they are valued and their work is rewarded."
Salary Situation
It seems a given, in this economy, that salary increases—if any—will be small. Mok says she expects few changes in IT budgets, headcount, or staffing in 2010. Her studies show raises will be in the 3% area.
Not so bullish is Janulaitis, whose research shows that any increase in compensation for IT workers will be negligible. According to a study by Janco Associates, the median compensation increase in 2010 will be one-quarter of 1%.
Salary levels for CIOs will remain around $180,000, while those for IT professionals at the vice president level will hover in the $140,000 to $145,000 range.
More companies will provide merit increases to salary based on performance. This will allow SMEs to reward outstanding workers and keep them happy through tough times while not breaking the bank.
Order IT Salary Survey Download IT Salary Survey Summary
Current IT Job Market Growth
9,300 IT jobs lost YTD. Detail analysis of the IT Job Market is available.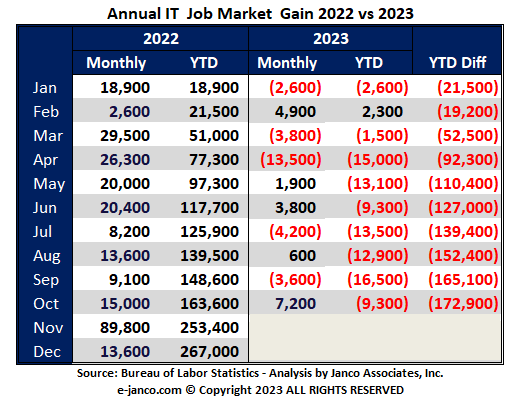 Summary Results and Changes in Demand for IT Jobs