US IT staff salaries and benefits shrink
Experience pays - eventually

US IT staff salaries and benefits shrink - The Register - US Salaries are down across organizations and job titles, but compensation might be holding up better than you'd think - especially if you hang in there - according to Janco Associates' mid-year salary survey.
First, let's take a look at the average IT job across all titles and see how that has changed. According to Janco, the mean IT salary in January 2007 at mid-range companies was $75,096. And, thanks to the importance of IT in most businesses, mean IT salary in January 2008 was up one per cent to $75,814 even as the US economy went into recession in December 2007.
By January 2009, when the economic meltdown was in full swing and people were freaking out, the average IT salary dropped to $73,905, a decline of 2.5 per cent. While the slide between January and June of this year has not been large - the mean IT salary has fallen by six-tenths of a per cent to $73,439 - it is still sliding for a number of different reasons.
The mean salaries at large enterprises has held up a little better, starting at $81,078 in January 2007, rising to $82,197 in January 2008, but falling slightly to $81,425 in January of this year and averaging $81,652 in the June 2009 survey.


---
Current Median IT Salaries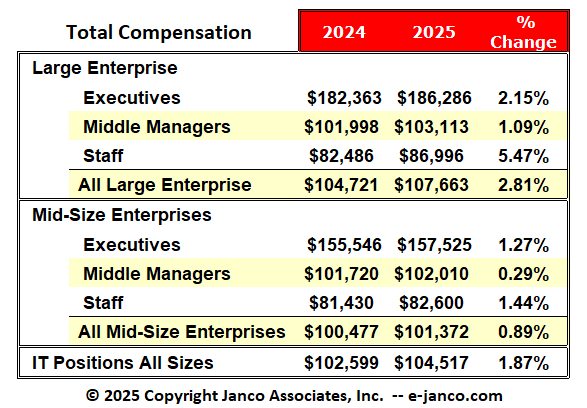 For the latest data go to the current IT Salary Survey
---
Companies are cutting back on the benefits as well as salary in the IT department. The percentage of IT personnel reporting that they have company paid health insurance and life insurance has fallen by seven per cent and six per cent, respectively.
In the January 2008 survey, 95 per cent of those polled had company-paid health insurance and 85 per cent had life insurance where the company footed the bill. The prevalence of 401(k) retirement funds has risen by three per cent, to 73 per cent of those polled.
Flex-time, another popular benefit, is down by 12 per cent over the same term, to 48 per cent of those polled, and the distribution of performance-based bonuses is down by five per cent to 54 per cent of those polled. Stock options were only being granted to 14 per cent of those polled, down from 22 per cent in the January 2008 survey.
According to a summary here, companies of all sizes and industry stripes have put hiring freezes and spending freezes into effect - many midrange companies have stopped hiring altogether - as well as laying off IT staff.
IT contractors have been cut back, bonuses have been reduced, and outsourcing is on the rise. All of these put pressure on the remaining IT staff, who are of course being asked to do more. Layoffs, says Janco, have focused on middle management and IT support staff, but some big-time IT hotshots are out of work. Janco says it knows of more than 200 IT pros in the New York metro area who used to earn six-figure salaries that are out of work thanks to bankruptcies, mergers, and layoffs.
Perhaps more ominously for those looking for work, Janco says there is a surplus of IT pros available in the US because senior IT people are putting off retirement because the stock market has been slammed and they can't afford to retire. Yes, this is a flashback of sorts to 2001.
It is still good to be at the top. Across large enterprises, the mean compensation - salary plus benefits - for chief information officers is now $172,505, up 2.17 per cent in the past 18 months, compensation for CIOs at midrange companies fell by two-tenths of a percent to $162,937.
At the large companies surveyed, salaries for middle IT managers is up a smidgen - 0.43 per cent - to $79,572, and the average IT staff member is paid $66,061 - up an even smaller smidgen of 0.16 per cent. Across all executive titles at large companies, salaries have fallen by 0.11 per cent since January 2008, to an average of $142,753.
At mid-sized companies, the average IT executive salary is down 1.8 per cent to $123,728, while middle managers at midrange companies have seen their compensation go down, on average, by 0.24 per cent in the past 18 months, to $72,272, and IT staff have seen a 0.39 per cent cut, to $60,043.
Large enterprises have slammed on the brakes more than midrange shops when it comes to server and storage upgrades and are clearly a little more worried about losing their key people. Midrange shops already tend to run lean on the IT purchases, and when they make cuts, it looks like they drop projects and cut people.
Now, the thing to keep in all of these numbers is that averages are not actual salaries. What often happens at real companies is that they cull the least-experienced IT people from their ranks and sometimes do not replace them. The more experienced, and slightly higher paid, people stick around, so when you come back a year from now, it looks like average compensation is on the rise.
But what has really happened, is low-end people were fired so the CIO can give a pay increase to key programmers and project managers they are terrified of losing. Or, in some cases, the average numbers mask this behavior entirely. When IT budgets come back, entry people are added to the mix, and key people are compensated even more, but again, the averages can mask this. Take mean IT compensation with a grain of salt.
Janco Associates' mid-year salary survey 2009 Mid-Year IT Compensation Study surveyed 215 US organizations. It qualified large companies as those making more than $500m in annual revenue, with a total of 22,368 IT staff and executives spanning 73 different titles. It polled 526 midrange companies, defined as those with less than $500m in revenues, with a total of 23,869 IT employees across those same 73 titles.